Our personal account on how effective it was learning German on Duolingo after using it for 4 months for at least 30 minutes everyday (+60 hours).
Why we started learning German with Duolingo
You may have read from our last post that we recently relocated to Berlin. We've been loving the change in environment and embracing all the new experiences of this dynamic city, including learning German. Yes, we know what some of you are thinking… Berlin is probably the worst city to learn German in, given that it has a huge expat community and the fact that most locals here can speak English. Nonetheless, we decided to learn the language anyway since Berlin has become our new home.
Is it difficult to learn German as an English native speaker on Duolingo?
Learning a new language is exciting, but it can be intimidating as well, especially with a language like German. If you don't believe us, google "funny German language memes" and you'll find hours of laughs and giggles. Initially, we thought it would be easy for us to pick up German since we both speak Afrikaans (an official language in South Africa that is derived from Dutch). Little did we know that German is far more complicated with its numerous grammatical cases, memorising which German nouns are masculine, feminine or neuter (most of which don't make sense), and its peculiar sentence structure. Now that we've come to terms with how tricky the German language can be, we're glad we have gotten a head start with free language learning apps like Duolingo.
How to use Duolingo to learn German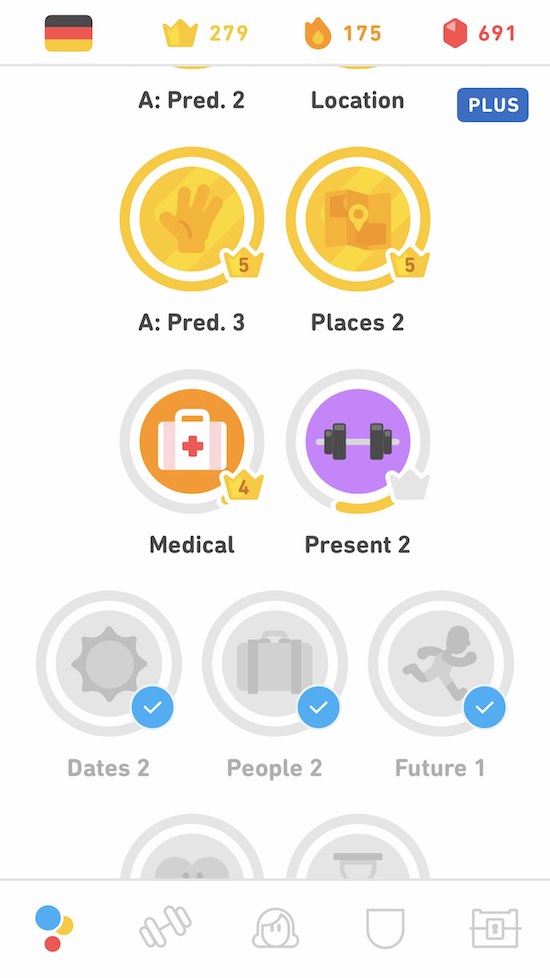 The wonderful thing about technology nowadays, is that you can literally learn anything anywhere with an internet connection (and some willpower). That's how we were able to start learning German while travelling. We were learning German on Duolingo for 4 months, for an average of 30 minutes every single day before arriving in Berlin. Yes, we completely geeked it out so we could test the theory on whether 34 hours of Duolingo equates to a first semester course for learning German. We calculated that in 4 months we probably spent 60+ hours learning German on Duolingo, which is just under double the time published in the claim. We used the free subscription of Duolingo since it offered everything that we needed, but we also tried the 7 day free trial for Duolingo Plus to see what additional features the premium subscription offered.
How much German could we speak and understand after four months of Duolingo
After geeking Duolingo for 4 months, we were super excited to come test our newly acquired skills in Berlin. We were quite thrilled when we could decipher some written signs and adverts we saw around the city. However, when it came to listening to announcements on the train or an attempt at eavesdropping on the bus, we realised we couldn't understand anything except for a few words here and there. We were able to ask short questions or order coffee at a restaurant or cafe, but could not understand when the person responded to us in German. It was then that we realised that we knew a lot of vocabulary, but that we couldn't string together a sentence or understand the German spoken language.
As true adventurers, we didn't give up of course. Instead, we did some research on German schools and decided to sign up for classes to see whether that would help improve our German. Upon signing up, we had to do an online placement test to see which class we should start at. Michael was assigned to class A1.2 and I was assigned to class A2.1 (can't beat an Asian). That was when we realised that maybe Duolingo's claim that 34 hours of learning a language on Duolingo equates to a semester course may be true to some extent.
Now that we've experienced both Duolingo and attending German language school, we are able to share its advantages and disadvantages.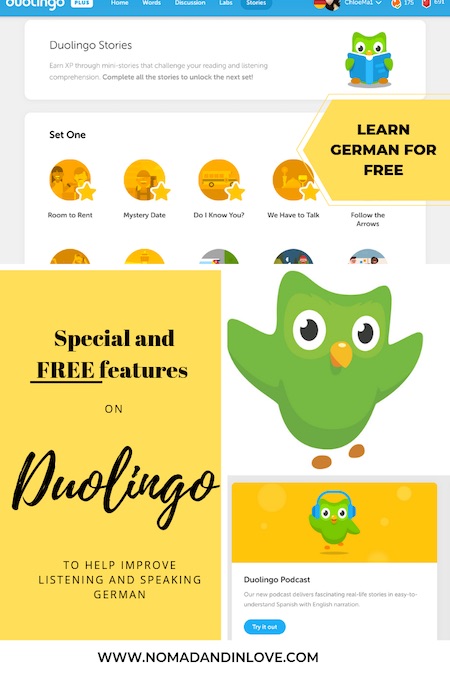 Advantages of Duolingo
It's free – this is probably the biggest benefit since German school could cost anywhere between €200 – €750 per month
You can learn anywhere and you determine your own pace
Great for learning vocabulary – this is especially important in German because you need to memorise what gender the noun is as it impacts what article you use before it (this doesn't always make sense as nouns like skirt, wine, bikini, chair are considered masculine, whereas pants, an orange, jeans and shoes are feminine). There is also a neuter gender but let's not scare you
Gives you a head start before starting German school so that you are less overwhelmed
Social aspect of competing with friends and family helps motivate you to practice everyday
Disadvantages of Duolingo
Pronouncing words may be a challenge since Duolingo doesn't teach you how to pronounce the letters of the alphabet
Listening skills aren't great especially for a language like German where the written and spoken language can be quite different
Some complex grammatical concepts like dative, prepositions, perfect and past tense can be a bit ambiguous and difficult to grasp on Duolingo alone
Duolingo's syllabus does not follow the CEFR (the Common European Framework of Reference for Languages) level and therefore you won't be able to get a formal certificate to say you have achieved a certain proficiency level in the language. This is of course not necessary if you're learning for leisure (why would you do that to yourself?) but if you're a foreigner looking for work in Berlin, Duolingo will not be sufficient
We found it very hard to put a sentence longer than 5 or 6 words together learning from Duolingo alone because the focus was more on vocabulary rather than grammatical rules and sentence structure
Special and FREE features on Duolingo
Obviously being able to attend German language school would be ideal, but we completely understand that it is a big investment and not everyone will be able to afford to attend classes. We have therefore compiled a few tips and tricks you can use to help improve the Duolingo learning experience. You may not be aware of these features if you've only used Duolingo on your phone so make sure to try Duolingo on your computer to access all the features below.
Duolingo Stories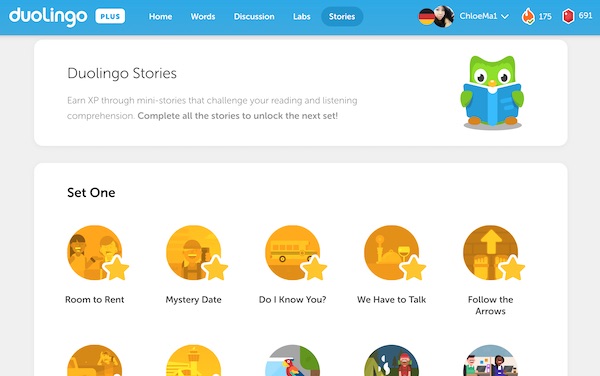 This is one of the Duolingo lab features (i.e. experimental and may be discontinued) that is available on Duolingo desktop but not in the app. This is probably the most useful tool we highly recommend you use to help you improve your listening and pronunciation skills.
Basically you listen to a short story narration and answer some questions as you progress through the story. We love it because you can easily see the English translation by hovering over the word. It also helps bridge the gap between the written and spoken language. This is a great tool and we hope it becomes a permanent teaching tool.
Grammatical explanations on Duolingo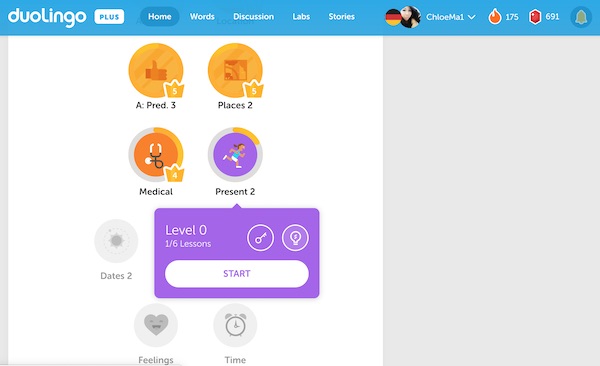 This is another hidden feature you can only access when using Duolingo on your desktop. You can access brief grammatical explanations on the topic by clicking on the subject and then selecting the light bulb icon. The explanations are brief, but it does help with understanding more complex grammatical concepts.
Duolingo Events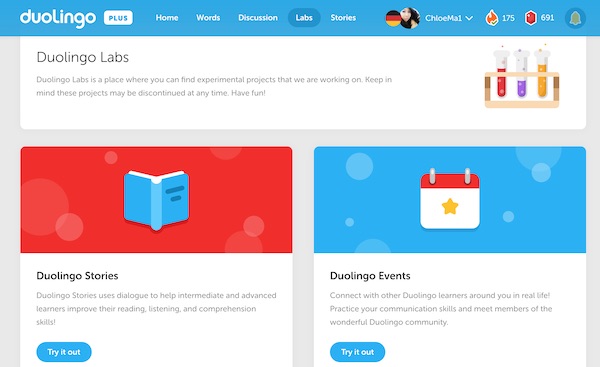 One thing we love about attending German language school is meeting lovely people from all over the world. You can do this on Duolingo too by signing up for one of the Duolingo Events. Availability depends on whether anyone is organising one in the city you're in. We've been lucky enough to attend one and we had a blast! Didn't learn much German, but we made some great friendships.
Skipping lessons on Duolingo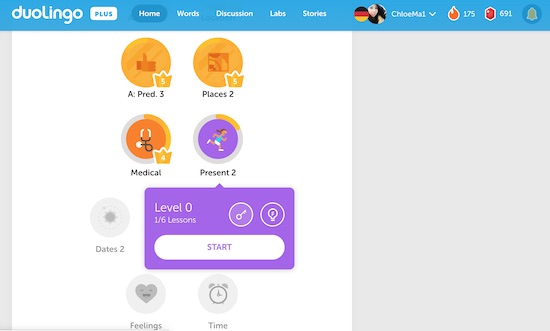 Repetition is great for memorising new vocabulary, but sometimes the topic is simply too easy and you just want to complete it and skip to the next subject. You can do this by clicking on the topic and then on the key icon. Duolingo will then give you a short test on the topic, and if you're able to complete it with less than 3 mistakes then you can skip that level.
Is Duolingo Plus worth it?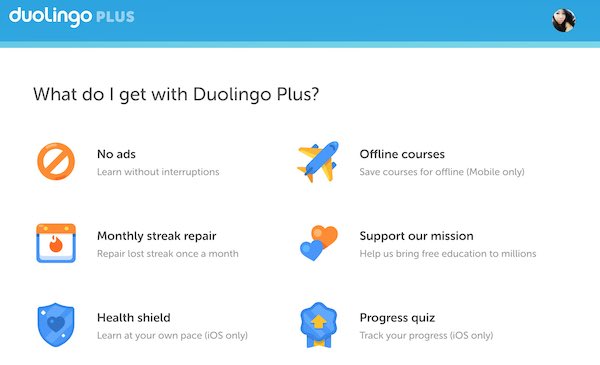 In short, no. This is what makes Duolingo one of the best language apps to use because you don't need to pay to access all the lessons. The only difference between the free version and the premium subscription are no ads, you can download lessons to do offline, a monthly streak repair and being able to do a progress quiz. Besides that, the lessons are exactly the same. We love that this is in line with their mission to bring free education to millions.
Duolingo vs Language School
We have continued learning German on Duolingo since our 4 month experiment and are now close to the 6 month mark. We've seen our progress dramatically improve since combining it with German language school and are now able to hold a basic conversation in German. We are very likely to continue both as we find it works best hand-in-hand.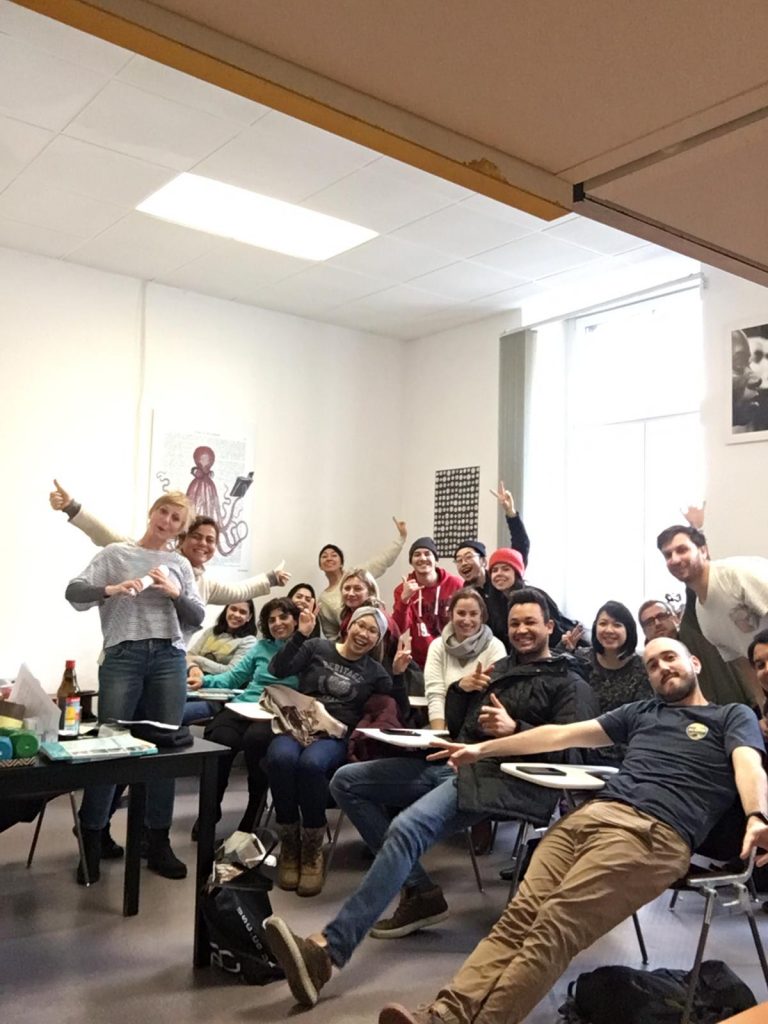 If you've done 4 months of Duolingo, the German course A1.1 will be quite easy, but A1.2 will be more challenging in comparison as you will start learning past tense and future tense at school, whereas Duolingo teaches you this much later.
If you're finding German difficult to learn, don't be discouraged. Even locals admit the language is tricky. Just keep going at it and eventually you'll start getting a feel for the language. If all else fails and you need some German language humour, look up some of Mark Twain's quotes on the German language. That should bring a smile to your face.
Are you moving to Germany too? Need to open a German bank account that is in English while you work on your German? Then make sure to read our open a German bank account guide because you won't need to register an anmeldung beforehand.
Need to still apply for your anmeldung? Don't worry, we've got you covered. Find out how you can easily get your anmeldung with our simple 3 step guide. We've even translated the registration form for you from German to English in case your German isn't up to scratch yet.
Have you tried to learn a language on Duolingo? We would love to know your experience! Leave us a comment below.