If you're looking for a quiet paradise, where the only items on your itinerary are exploring the island by motorbike and discovering heavenly beaches, then you won't want to miss the amazing beaches in Koh Phangan
Quiet Islands in Thailand
Thailand is a highly popular travel destination for good reason. The country has some of the most beautiful beaches and islands in the world and is also affordable to visit. The only downside to this, is that these places tend to become too commercial and overcrowded, which can dampen your experience there. If you understand exactly what we're talking about and are looking for that quiet paradise in Thailand, then the beaches in Koh Phangan is the place to visit.
In this post, we list our top 10 beaches in Koh Phangan based on the type of experience you may be looking for.
If it's your first time travelling to Thailand, make sure you read our 7 Krabi travel tips. We may have written it specifically for Krabi, but most of the tips are applicable for travelling anywhere in Thailand. We share useful tips like how much to budget daily, whether it is card friendly and even how to rent a scooter in Thailand.
Getting from Bangkok to Koh Phangan
There are many options to getting around Thailand and we highly recommend you venture outside of Bangkok and Phuket so you can avoid the crowds and experience more of Thailand.
Check out our getting around Thailand on the cheap guide to plan your trip, compare prices and book your tickets online.
Disclosure: This article contains affiliate links, which means we may earn a small commission on qualifying purchases at no extra cost to you. Check out our Privacy Policy for more information.
Best place to snorkel in Koh Phangan
Koh Ma Island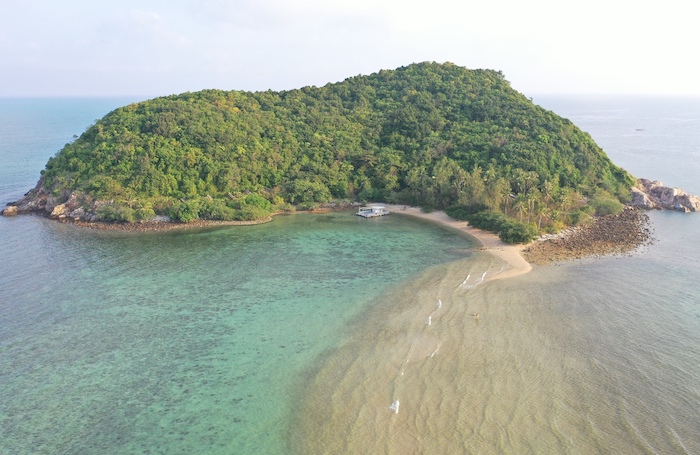 There are many tour operators that will take you snorkelling around Koh Phangan. But if you want to avoid the crowds and be able to snorkel right off the beach, then Koh Ma will be your best choice. The best snorkelling spot is on the side of the island where the hut is (left on the image). It is best to snorkel during high tide as visibility tends to be the best. You'll also less likely to brush against the corals.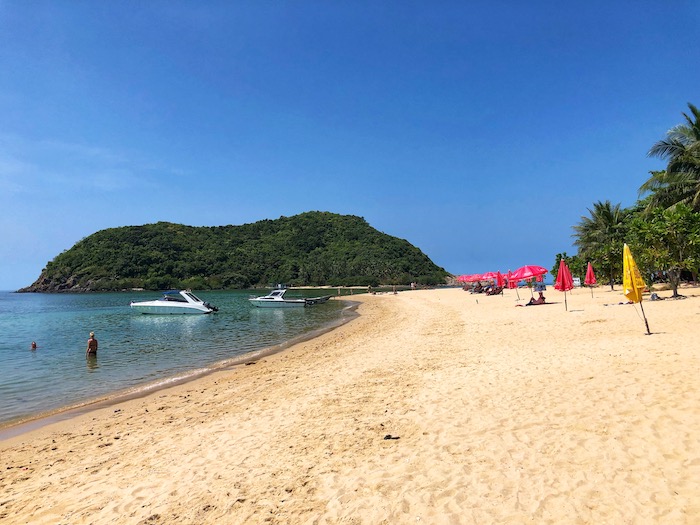 If you don't have snorkel gear, you can rent snorkel and fins at the bar in front of Koh Ma Beach Resort for 100 baht per hour. If you happen to be there during low tide, don't despair. You can enjoy walking on the sand bank across to Koh Ma Island, or just chill on the beach.
This beach tends to be busier than others around Koh Phangan, but never feels crowded because it connects to a longer beach called Mae Haad Beach.
Nang Yuan Island Snorkelling
If you really love snorkelling, then you may want to consider taking a full day snorkelling trip sailing on a catamaran from Koh Phangan to Nang Yuan Island for a full day of ocean indulgence.
This tour includes everything from transfers to and from your hotel in Koh Phangan, the entrance fees to Nang Yuan Island, snorkelling equipment, delicious food and non-alcoholic drinks. All you need to bring is sun screen (a reef friendly one of course), your swimwear of choice, sunglasses, a towel and yourself!
If you love snorkelling, you'll probably love scuba diving even more! Very few things compare to the happiness you feel swimming amongst the exotic creatures that live below the ocean's surface.
If you are interested in learning how to scuba dive and don't know where to start or what to expect. We've written a How to Get Your Scuba Diving Certification Guide to help you.
Most pristine beaches in Koh Phangan
Bottle Beach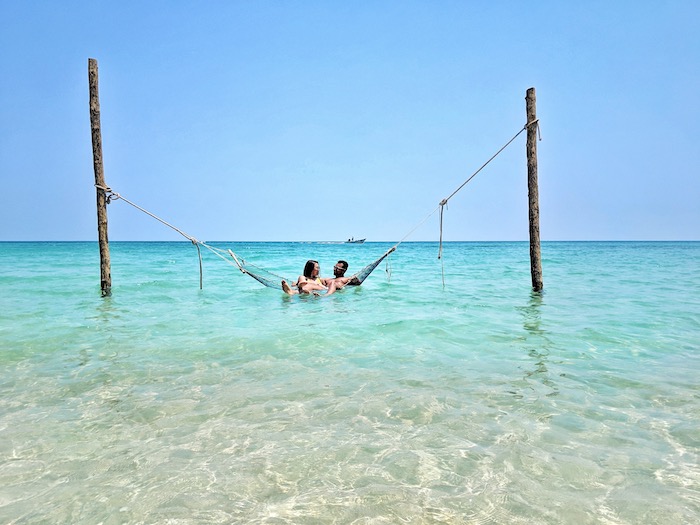 Bottle Beach is our #1 favourite beach in Koh Phangan. The soft, white sand and crystal clear waters are some of the most pristine on the island. No rocks, dead corals or broken shells to "exfoliate" those feet. The perfect beach paradise for the ultimate beach bum experience. It is also very isolated and there are never many people on the beach. You can easily chill in the sea hammock all day until you're nice and toasty.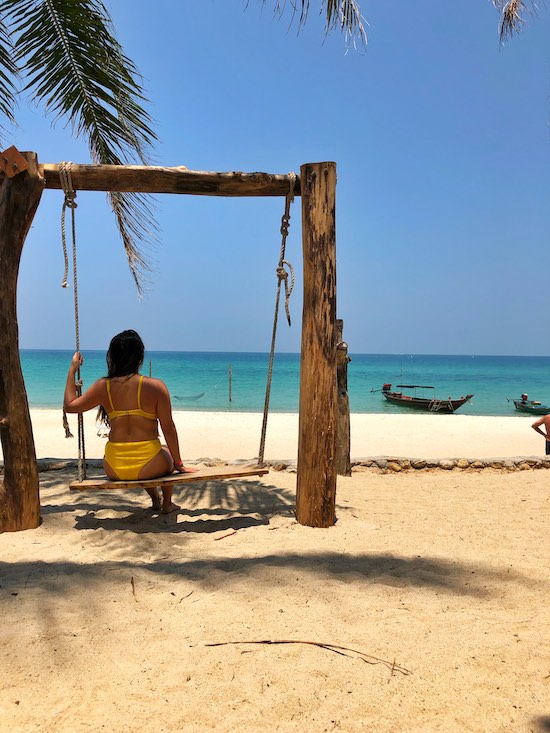 The only catch is that it isn't easy to get there by yourself. The easiest and safest way is to take a taxi boat for 150 baht (per person one way) from Malibu or Haad Khom Beach to Bottle Beach.
You can also hike there but it will take 2-3 hours to climb over the mountain and on to the beach. There is a motorbike option on Google maps which we don't recommend. The roads are not paved and very rocky. That combined with steep uphills and downhills can make the trip quite treacherous.
Accommodation on Bottle Beach
If you want to get the most out of your 300 baht round trip, consider staying overnight at Bottle Beach Bungalows or Bottle Beach Resort. They are both relatively affordable accommodation options. That way you can have the beach all to yourself, when other day trip guests have to leave at 5PM to catch the last taxi boat.
To get the best prices on your hotel bookings, make sure to read our Travel For Cheap Guide. We show you how we save up to 53% on our flights and hotel bookings.
Malibu Beach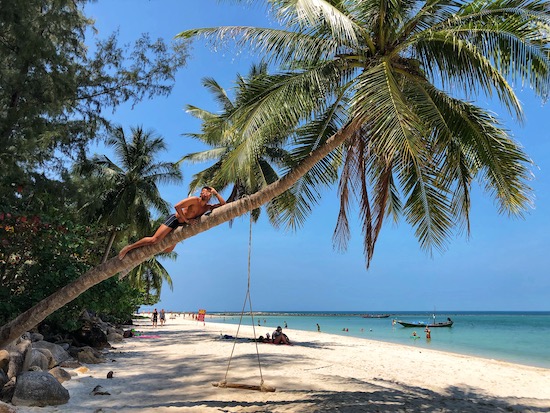 If a taxi boat isn't for you, then Malibu Beach will be the next best option. This beach also has soft white sand and turquoise waters, but is not as quiet as Bottle Beach. There are plenty of palm trees for shade and even a couple of beach swings too.
This beach is perfect if you have young children. There is a shallow side on the one end of the beach, as well as a deeper side for adults.
There are a few boats docked here, but nothing too invasive.
Salad Beach
A great alternative if you're exploring the north western side of the island. The sand is not as soft as Bottle Beach or Malibu Beach, but there aren't too many rocks or dead corals to watch out for either. The water is clear but there are sections with seaweed floating around if you're sensitive to the smell.
Want to read this later? Pin me to your Thailand Travel Guide board.
Most vibey beaches in Koh Phangan
Haad Yao Beach
If you're keen to meet other travellers, play beach volleyball and do some beach bar hopping, then Haad Rin Beach will be your best choice. It is a lovely long beach with a bustling beach vibe. The sand is fine but the waters are not as clear as Bottle Beach or Malibu Beach.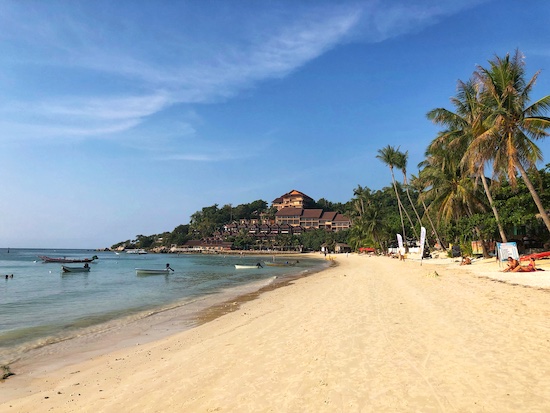 On this beach, we were incredibly lucky to catch a glimpse of a baby turtle swimming close to the shore line.
Haad Rin Beach (Full Moon Party Beach)
This beach is better known as the Full Moon Party beach. Did you know that the Full Moon Party originated in Koh Phangan in 1985? We didn't either. So of course we went to experience it when we happened to be on the island on full moon.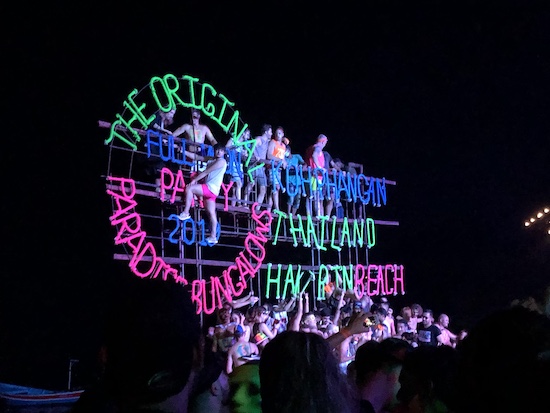 Now, we don't recommend going to this beach a few days before or after full moon (too busy and dirty). But we do recommend going there outside of this period, as it is one of the only beaches in Koh Phangan that has waves.
Best sunsets in Koh Phangan
Secret Beach
Secret Beach is not that "secret" compared to other quieter beaches we visited. It was still very romantic and beautiful though. There were some dead corals on the beach, but the sand was still soft.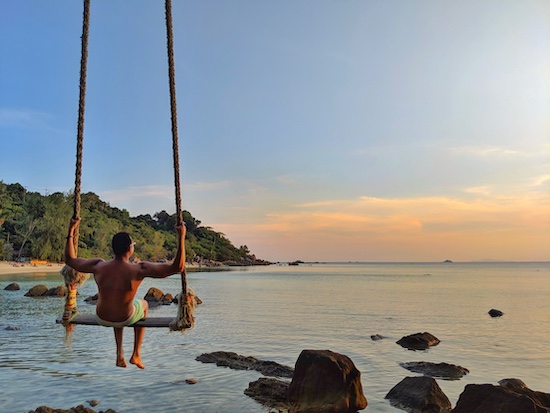 The sunsets here were the best we experienced in Koh Phangan. Although Malibu and Bottle Beach is better for its crystal clear waters, you can not watch the sun setting on the horizon on either of those beaches.
You can take amazing sunset pictures at Secret Beach and even take a few on the huge swing close to Koh Raham restaurant.
The Quietest Beaches in Koh Phangan
Haad Khom Beach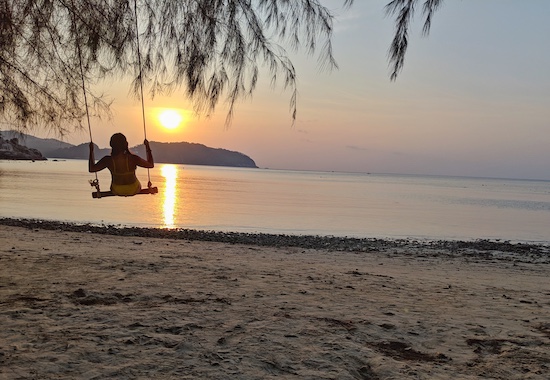 If you're looking for a beach with very few people, then Haad Khom Beach is for you. But be wary that this beach is quiet for a reason. The sand is course and there is quite a bit of rocks and dead corals on the beach and ocean floor. This may be a bit of a nuisance for swimming, but if you're just planning to sun bathe or read a book, this beach is a great option.
Zen Beach
If you want peace and quiet, but also a more swimmable beach than Haad Khom, then Zen Beach is your answer. The sand is soft and there are minimal rocks, dead corals and broken shells around. There were also no boats docked on this beach, which is rare and wonderful. This beach doesn't have much shade though, so be prepared to sunbathe on this beach.
West Coast Beach
This is a small beach on the west coast of Koh Phangan, and probably the most isolated one that we visited. Including the two of us, there were only 6 people on the entire beach.
We loved the huge beach swing between the palm trees but the beach wasn't the best for swimming. Close to the water's edge the ground is more pebble than sand and there are quite a few large rocks on the ocean floor. The gradient of the beach also dramatically dips after a few steps, which is not very children-friendly.
The best beaches in Thailand
So now you have it, a guide to finding the best beach for you in Koh Phangan. If a motorbike isn't for you then consider staying on different parts of the island so you can explore its many beaches.
There are a few beaches on the east coast such as Thong Nai Pan Yai Beach and Haad Than Sadet Beach that is only accessible by boat too. In that case it may be better to stay there for a few nights to maximise your boat transfer. Zoom out on the map below for different hotel options and pricing too.
Where to after Koh Phangan
After experiencing some of the most beautiful beaches in Thailand, why not explore the most ancient and majestic rainforests and lakes of Thailand? If you love nature, hiking and going on a cave adventure, check out our Khao Sok Lake Tour guide or 3 day itinerary in Krabi. If you can't get enough of the ocean, then make sure to add scuba diving around Similan and Surin Islands in southern Thailand on a liveaboard to your itinerary. We also share how to get to these places affordably by public transport in our getting around Thailand travel guide.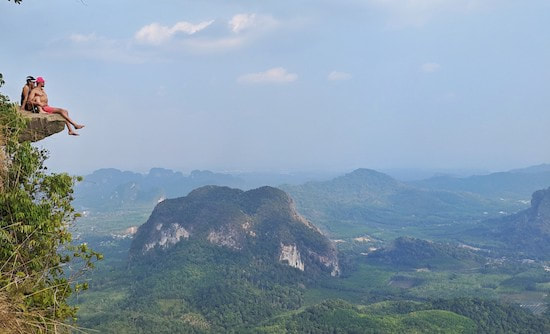 If you love beaches as much as we do, make sure to read our Zanzibar Beach Guide. It's one of the most beautiful and pristine beaches we've ever seen (and we've travelled quite a bit).
What is your favourite activity when you're at the beach and which one of the above is your favourite? Let us know in the comments below, we would love to hear from you.